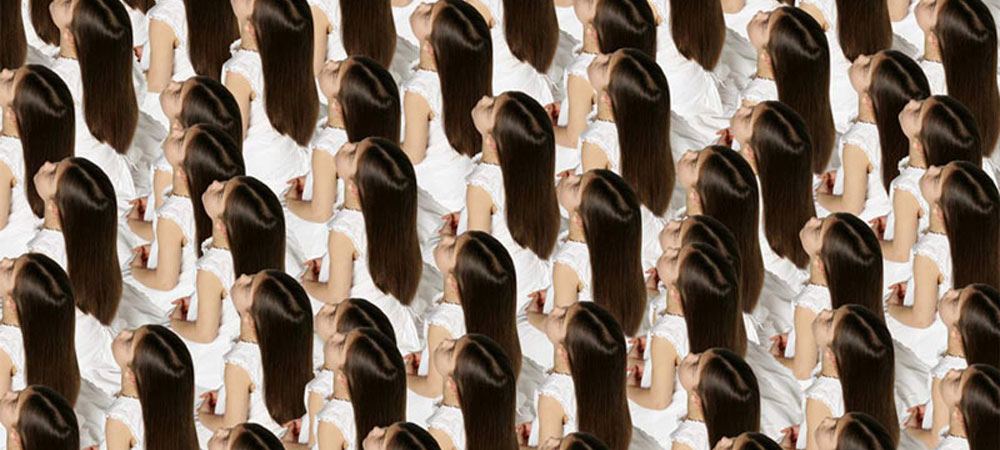 CLAUDIA ROGGE
(Düsseldorf , Germany, 1968)
In the first phase of her work, the german artist portrays men, women , children, through digital processing , multiply endlessly . The individual becomes a mass raise pure aesthetic value , without any ideological intent .
The Uniform series consists of approximately 10,000 single shots digitally processed and enriched written , tattoos , masks and uniforms. As in the previous series Rapport , the faces remain expressionless , dehumanized and yet the beauty of the bodies immediately jumps to the eyes. The series is inspired Uniform text " The Everyday Life " by Erving Goffman , social theorist who defined life as a theater.
The large format of the new series EverAfter inspired by the " Divine Comedy" by Dante and represent the classical realms of the Inferno , Purgatory and Paradise .
In a sense contemporary particular influence has also had the play of Romeo Castellucci , who said: " Hell, Purgatory and Paradise are a universal experience that is not only behind us but it is strongly present ." At first glance , these photographs seem to recreate their baroque paintings , but looking more closely, you discover disturbing details , as part of sodomy and perversion.
Both in form and content of the works raise contemporary issues , as regards the form are refuted the purpose and capabilities of the elegiac images without the religious use of the time and, with regard to the content, they call into question our faith in Western society increasingly secularized . A society which, in turn , is compared with the fear that comes from religion .
With her new series ( Lost in Paradise ) , Claudia Rogge calls into question the established dualism between good and evil, and set the value of our acts not only in this world, but also in a possible afterlife.
Info →

 

MAIN SOLO & GROUP SHOW

2013
Claudia Rogge, Relations, Galeri Artist, Istanbul, Turkey
Claudia Rogge, Streiflicht 2003 – 2013, Galerie von Braunbehrens, Munich, Germany
Primera Bienal del Sur en Panamá 2013: Emplazando Mundos – Bienal del Sur en Panamá, Panama Stadt

2012
"Lost in Paradise", Gallery Voss, Düsseldorf, Germany
"Ever After", Frolov Gallery, Moscow, Russia
"New Media Reloaded", Gallery Braunbehrens, Munich, Germany
"Sooooooo viele!!!", Kunsthalle Memmingen, Memmingen

2011
"EverAfter", Gallerie Paola Verrengia, Salerno
"Himmel, Hölle, Fegefeuer", Galerie fiftyfifty, Düsseldorf
"Su Nero Nero", Castello di Rivara, Cetro d'Arte Contemporanea
"Final Friday", Galerie Voss, Düsseldorf
"Defiant Gardens", MAM Mario Mauroner CONTEMPORARY ART, Salzburg
"Menschenbilder", Große Kunstschau, Worpswede
"EverAfter", MAM Mario Mauroner CONTEMPORARY ART, Salzburg
"EverAfter", MAM Mario Mauroner CONTEMPORARY ART VIENNA, Wien
"Great", MAM Mario Mauroner CONTEMPORARY ART Salzburg, Salzburg
"EverAfter", hammer gallery, Zurich
"Auf die Plätze", Deutsches Hygiene Museum, Dresden

2010

"The Right To Protest", Museum On The Seam, Jerusalem

"Athens Photofestival 2010″, Hellenic Centre for Photography, Athen (GR)

"Press Art – Sammlung Annette und Peter Nobel", Museum der Moderne, Salzburg

"The Right to Protest", Museum On the Seam, Jerusalem

"A Retrospective", MAM Mario Mauroner CONTEMPORARY ART VIENNA, Wien

"Das Paradies der Zaungäste", Galerie Voss, Düsseldorf

"Press Art – Sammlung Annette und Peter Nobel" Museum der Moderne, Salzburg

"DREAMS" – MAM Mario Mauroner Contempory Art Salzburg, Salzburg

"World Creators" – Hammer Gallery, Zürich

"Claudia ROGGE" – Rochinin Arte Contemporeano, Terni

2009
"Isolation", Galerie Voss, Düsseldorf
"ChoRelation", Mario Mauroner Contemporary Art SALZBURG, Salzburg
"A Retrospective", Moscow Museum of Modern Art, Moskau

2008
"Man ohne Eigenschaften", MAM Mario Mauroner CONTEMPORARY ART VIENNA, Wien
"Le mot chien ne mort pas", Joseph, Paris
"Third Beijing International Art Biennale", Peking
"Join the crowd, Ronchini Arte Contemporanea", Terni, Itália
"Love", Palazzo Ducale, Modena

2007
"Die Kunst zu sammeln", Museum Kunst Palast, Düsseldorf
"Leibhaftig", Kunsthalle Konstanz
"Leibhaftig", Städtische Galerie Ravensburg, Ravensburg

2006
Curtain Call !, Galerie Lausberg, Toronto
"UNIFORM" Galerie Voss, Düsseldorf
"RAPPORT", Galleria Paola Verrengia, Salerno

2005
"Lend me your Ear", Kunstverein Bad Salzdetfurth
46. October Art Salon, Belgrad
"RAPPORT" Galerie Voss, Düsseldorf

2004
Staatliches Museum Tivat, Montenegro
Galerie Storms, Düsseldorf

mob il 2, Düsseldorf, Köln, Hamburg, Berlin, Stuttgart, München, Zürich,
Basel, Brüssel, Paris, London, Amsterdam, Antwerpen etc.

2003
Galerie Michael Schultz, Berlin

Förderung für mob il 2 durch den Ministerpräsidenten des Landes Nordrhein-Westfalen;
Förderung für mob il 2 durch das NRW Landesbüro Freie Kultur;
Förderung für mob il 2 durch das Ministerium für Städtebau und Wohnen,
Kultur und Sport des Landes Nordrhein-Westfalen;
Förderung für mob il 2 durch den Fonds Soziokultur

2002
fiftyifty Galerie, Düsseldorf

mob il 1, Düsseldorf, Köln, Frankfurt, Hamburg, Berlin, Dresden, Leipzig, Karlsruhe,
München, Zürich, Brüssel, Paris, Amsterdam, Den Haag…

2001
Förderung des Kulturamtes der Landeshauptstadt Düsseldorf;
Förderpreis der Kurt Eisner Kulturstiftung, München
Performance "Die sieben Todsünden", Düsseldorf

2000
Galerie Blau, Düsseldorf
Europäisches Museum für Frieden, Schleining, Wien
Skulpturen Park, Bielefeld
Z2000, Berlin
Cubus Kunsthalle, Duisburg
The Orlando Museum, Orlando
Performance "Restposten", Düsseldorf
Projekt "Birth-Build", Hannover, Berlin

1999
Kunstnernes Hus, Aarhus
Museo Russo, San Pietroburgo, Russia
Stiftung Haar, Kulturstadt, Weimar
Performance Dezember;
Progetto Birth-Build, Düsseldorf, Weimar, Aarhus (Danimarca), Amburgo.

1998
Galerie Camue, Mannheim

1997
Galerie 8 PQ, Bonn