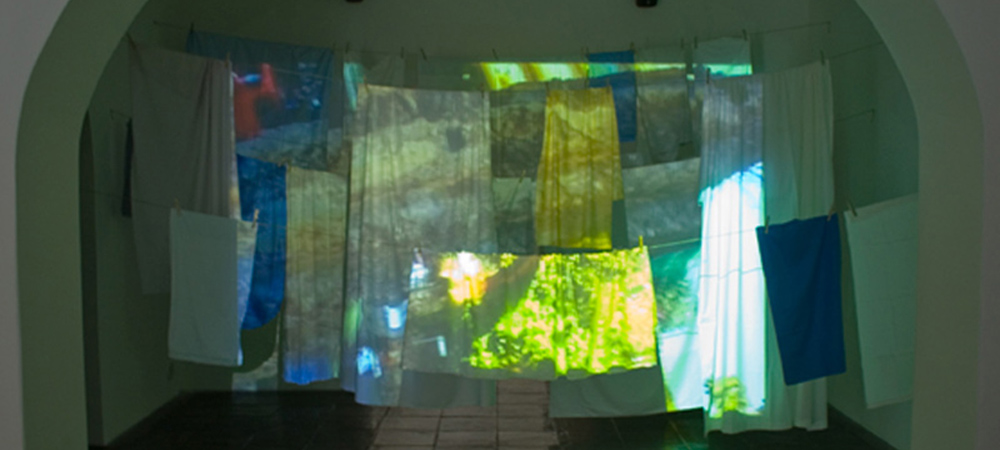 FILIPPO CENTENARI
(Cremona, Italy, 1978)
The research of Filippo Centenari has its roots in the field of multimedia where painting, video, mechanics and electronics coexist and interlace in projects of a different nature, creating an interaction and upsetting the technique rules of each chosen mean.
Its origin considers his study and attention toward the new digital and electronic media, with the backing of the computer as a mean of distribution of his projects themselves. In a second period, the painting and plastic matter gets his attention leading therefore Centenari to develop a metalanguage able to give away routine customs and upset the ordinary objects' structural logics, bringing them to interact with the spectator.
Centenari always works with painting and video, searching for a media synthesis and collage, from the Polaroid to the digital print, from the video to the installation and the interaction of the expression means. A work progressing by continually fragmenting and reconstructing images and means coming from the history and the new digital spaces, new fragments becoming new – but it would be better say different – harmony.
Info →
MAIN SOLO AND GROUP SHOW
2018
ArteFiera Bologna, Galleria Paola Verrengia, Bologna, Italia
2017
La Memoria e l'oggetto/Memory and Objects, Certosa di San Giacomo, Capri (IT)/Tehran Art Center Galleries, Tehran (IR)
2016
Elettronicamente, Lo Sguardo Della Videoarte – Villa Lysis – Capri
Premio Combat 2016 – Museo G.Fattori – Livorno
Collezione Permanente Igav – Castiglia di Saluzzo – Saluzzo
ArteFiera Bologna – Galleria Paola Verrengia – Bologna
2015
Contemporary Visions- Italian Artists in China. SPSI Art Museum, Shanghai
Tra Artificio e Natura, Galleria Paola Verrengia, Salerno
Visioni Contemporanee, Esperienze di confine tra realtà e immaginazione, Spazio Borgognono, Milano
ArteFiera Bologna, Galleria Paola Verrengia– Bologna
2014
4th Bienal del Fin del Mundo, Teatro Colòn, Mar Del Plata, Argentina
Visioni Contemporanee, Certosa di San Giacomo, Capri
BE LOST IN THE ETHER, F.CENTENARI/M.ELISABETTA NOVELLO, Galleria Paola Verrengia – Salerno
2013
Art Jungle – Venaria Reale, Torino
Equilibri instabili – Galleria 2000&Novecento – ArteFiera – Bologna
2012
Itinerari diversi – Galleria 2000&Novecento – Reggio Emilia
Door to Door, Galleria Paola Verrengia – Salerno
Saluti da Saluzzo – Castiglia – Saluzzo
Un gruppo di artisti tra scultura e architettura. – Galleria 2000&Novecento – Artefiera – Bologna
Polaroid Easy Art – Museo Nazionale della Scienza e della Tecnologia "Leonardo Da Vinci" – Milano
Anime Vittime – Con Frankie hi-nrg mc – Sala Santa Rita – Roma
Materia di Luce – Galleria Spazio Testoni – Bologna
2011
Frammenti di contemporaneità – Galleria 2000&Novecento – Reggio Emilia
Noi Credevamo. Il 1861 nel 2011 – Complesso dei Dioscuri al Quirinale – Roma
Un gruppo di artisti tra scultura e architettura. – Galleria 2000&Novecento – Reggio Emilia
PhotoReload (Naked City) – Galleria Romberg – Latina
Da cella ad Atelier – Castiglia – Saluzzo
Cross Currents – Civic Center – Lagos
Senza Rete – Loft Project ETAGI – San Pietroburgo
2010
Art Transport Station – Stazione Leopolda – Firenze
Handle with care – Torino
Nove artisti per "Napoli Milionaria" – Palazzo Ducale – Martina Franca
Domande In Sospeso – Museo Diocesano – Milano
Cosa vogliono le immagini?– Galleria Studio Vigato – Bergamo
Contemporary Energy. Italian Attitudes – UTOPIA – ShanghaiUrban Planning Center – Shanghai
Under Italian Eyes– Museo Mahmoud Khalil – El Cairo
ArteFiera Bologna, Galleria Paola Verrengia– Bologna
2009
Solo Project – Basilea
Premio Guglielmo Marconi dal 1988 al 2009– Palazzo d'Accursio – Bologna
Filiberto Menna: La linea analitica dell'arte contemporanea– Complesso Monumentale di S. Sofia – Salerno
La commedia umana di Balzac – Omaggio al romanziere assoluto– Castello di Rivalta – Torino
Speculazioni d'artista – Quattro generazioni allo specchio – Museo Carlo Bilotti, Aranciera di Villa Borghese – Roma
Ruritalia.it : agricoltura e lavoro nel Novecento dal Futurismo a Facebook – Teatro dei Dioscuri – Roma
Metropolitan Frames – Galleria 2000+45, Spazio Gianni Testoni – Bologna
Energie sottili della materia – La Castiglia – Saluzzo
2008
Art.box , Milano , Italia
Contemporanea(mente Gallery, Parma, Italia
I Moscow International Biennale for young art , Moscow
Mirbach Palace, Bratislava
He Xiangning Art Museum , Shenzen
Artissima,Galleria Paola Verrengia, Torino, Italia
China National Academy of Painting, Beijing
Urban Planning Center , Shanghai , China
2007
Dove le cose mormorano, Galleria Paola Verrengia, Salerno, Italia
2000+45 Gallery, Spazio Gianni Testoni, Bologna, Italia
Casa dell'arte e del'architettura , Settimo Torinese, Italia
Rem Gallery, Jabeek, Maastricht
Videoinstallation tribute to Luigi Pasotelli, Spazio Espositivo Ex Chiesa di San Vitale, Cremona, Italia
Insieme Gallery – Ascoli Piceno
Cowparade – Milano
Lampisterie – Galleria Paola Verrengia – Salerno
2006
Videoinstallation with Nino Migliori , Cremona, Italia
25 international artists for an ecologic mind – Borgo Seghetti Panichi, Castel di Lama – Ascoli
Centro Arte Lupier, Gardone – Brescia
Accademia Riviera dei Fiori – Bordighera
Polanoir Gallery – Wien
A collective exhibition made and exposed in factory – SP System- In collaboration with Arturarte Gallery – Pomezia
2005
International award for Electronic Art Foundation Guglielmo Marconi, Bologna, Italia
M.A.O.N, Museum of '800 and '900 art – Rende – Cosenza
Centro Arte Lupier, Gardone – Brescia
Museum Laboratory Of Contemporary Art – Roma Mediterranean of art, from Giorgio de Chirico to Palazzo dei Congressi, Archivio di Stato EUR -Roma
Kiron Gallery – Parigi
Rem Gallery, Jabeek – Delaar Gallery, Bingelrade (Maastricht)
Biennal Youngs – Serrone Villa Reale – Monza
StudioVivo Gallery – Cremona
International award for Electronic Art Foundation Guglielmo Marconi – Bologna, Italia
2004
Videoinstallation, Casalmaggiore, Cremona, Italia
Festival del Pellegrino, Palace D'adda – Varallo , Italia
Stendhal,36 – Milano
Fortezza del mare – Isola della Palmaria
Museum Fonundation Stauros – Teramo
Fortezza del mare – Isola della Palmaria
Museum of Ligustic academy, Academy e Loggia Banchi – Genova
Dashanzi International Art Festival of Bejing – Bejing
Arturarte Gallery – Roma
Arturarte Gallery – Roma
2003
Pestalozzi Espace, Milano, Italia
Arturarte Gallery, Roma, Italia
Dellearti Design Hotels, Cremona, Italia
Isola della Palmaria
Sala SS. Filippo e Giacomo – Brescia
Arturarte Gallery – Roma