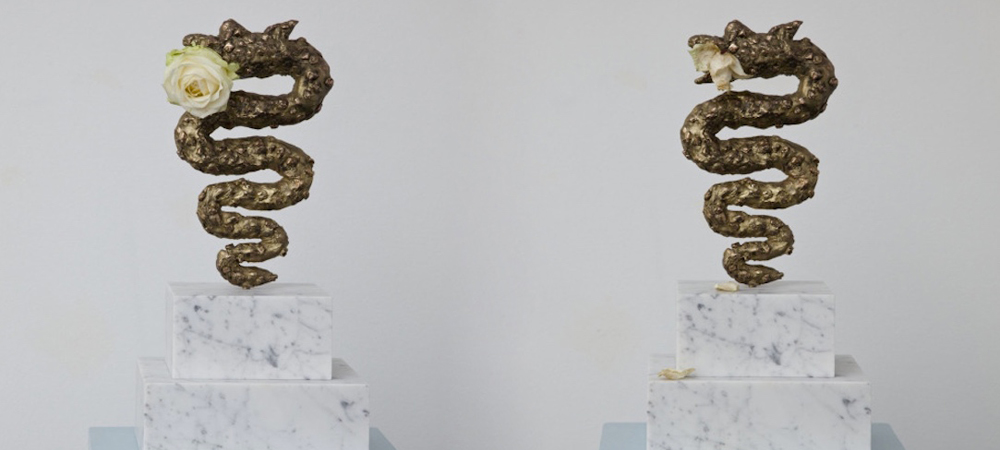 MICHELE CHIOSSI
(Lucca, Italy, 1970)
Michele Chiossi (1970, lives and works in Milan) since years follows a singular and profound research on the moods which mark our lives, from his analysis on food, to the ones on drinking, he constantly interrogates himself on the practice of sculpture, on the meanings of the social behaviors and our daily choices, creating original and creative "still lives".
Thought like "musts", first of all, it's been the Parmigiano Reggiano, icon of a global Italian identity, from where he had drawn the distinctive marchiatura d'origine, using the lettering, a font, composed by dots, that like a constellation, claims subjects in the conceptual re-writing of the name itself. The dot becomes fondamental not only in the drawings, but also in its photographical representation, as a tea light, in the BURNING FEELINGS cycle, and becomes three-dimensional in the neon backlit sculpture.
The dot is complemental to the line, and the line is his personal and peculiar trade-mark: an original free hand line, a zig zag stroke, made out of simple horizontal and vertical lines, which are often translated sculpturaly, and that philosophically reveals the complexity of the contemporary thoughts.
Info →
Main Solo and Group Show
2018
ArteFiera Bologna, Galleria Paola Verrengia, Bologna, Italia
2017
Dejavu, Gabamc, Galleria delle Belle Arti di Macerata, Macerata (It)
Living MC, Contemporary Art, Lissone, (IT)
Carrara Subabstraction, Palazzo Binelli Fondazione Crc, Carrara (Italia)
15-Love, Galleria Paola Verrengia, Salerno (Italia)
2016
DEDANS, Blue Corner, Carrara – (I)
THE AMBIGUOUS LIGHTNESS OF BEING. A cura di O. Agrò, Diana Lowenstein Gallery, Miami
ALBERICA, Blue Corner, Carrara – (I)
ARTEFIERA BOLOGNA, Galleria Paola Verrengia, Bologna
 2015
CARRARA ARABESQUE, i Salotti – Galleria Ricci, Carrara – (I)
#outofharmonywiththepresent – Plutschow Gallery – Zurigo – (CH)
MORE LOVE, K's living, Taipei – (TW)
2014
HANGITALL, BROTHERS' ART GALLERY, Lugano – (CH)
#ITSFIRENZEBABY, Les Copains, Firenze –(I)
#ITSMILANOBABY, Atelier Les Copains-Gloria Maria Gallery, Milano –(I)
2013
BURNING FEELINGS, Hotel Byron, Forte dei Marmi –(I)
WORDS OF ART, EDS Galeria, Mexico City – (MX)
ARTRISSIMA, Galleria ARTRA, Milano – (I)
FORTEMARMISSIMA SQUARE, Piazzetta dei Marmi, Forte dei Marmi –(I)
I WANT TO RIDE MY BICYCLE, MOCA, Montecatini – (I)
LE BANDIERE DEI DUE MONDI, Compagnia della Vela di Venezia, Venezia –(I)
CENTO la Lettura Corriere della Sera, LaTriennale, Milano – (I)
2012
Personal Effectsonsale, Padiglione dell'Esprit Nouveau, Bologna – (I)
INSIDE-OUT, Piazzetta dei Marmi, Forte dei Marmi – (I)
OSSERVAZIONE DELLA NATURA IN STATO DI QUIETE, Museo Marino Marini, Firenze –(I)
2011
LOL Doll, Spazio Sintesi, Milano –(I)
VIDEO-WORKS, EDS Galeria, Mexico City – (MX)
L'AUR'AMARA, La Générale en Manufacture, Parigi – (F)
DOMESTICITY, PRAGUE BIENNALE, Prague – (CZ)
54° ESPOSIZIONE INTERNAZIONALE D'ARTE DELLA BIENNALE DI VENEZIA –PADIGLIONE TOSCANA, Museo Pecci, Prato – (I)
SCULPTURE SQUARE, Piazzetta dei Marmi, Forte dei Marmi – (I)
2010
DI COTTI E DI CRUDI, Fiera del Levante, Bari – (I)
2009
Talking to Wittkower, Galleria EFFEARTE, Milan
SECOND LOOK (AT THE SURFACE), Kuenstlerhaus Palais Thurn und Taxis, Bregenz
MATT DIVE GOLD, LipanjePuntin, Roma
2008
NEON-CLASSIC, Galleria Z2o, Rome
2007
LA MARIE 2000, Susanna Orlando Vetrina, Pietrasanta
LET THERE BE LIGHT, Galleria ZONCA&ZONCA, Milano
ONCE UPON A TIME, Galleria ZONCA&ZONCA, Milano
2006
THE JAP DIPTYQUE ROOM, Spazio Bigli, Milano
ON SCULPTURE, Galerie METIS_NL, Amsterdam
SUPER WINDOW, Susanna Orlando Vetrina, Pietrasanta
FOOD, Studio Guastalla, Milano
2005
BEAUTY FREE SHOP, Divus, Prague
ING OFF, ING Headquarter Brussels, Brussels
2004
TWO SCULPTURES TO END THE SEASON, MAES & MATTHYS Gallery, Antwerp
MUST HAVE, Galleria del Tasso, Bergamo
L'ARTE E LO STUDIO, Università di Bologna, Palazzo Poggi, Bologna
S-VESTITI E USCIAMO, Sabatini Group, Cadriano, Bologna
2003
WHITE STATUARY, Galleria Paola Verrengia- Salerno
TARGET FLOOR, Stand Assopiastrelle, Progetto Città, Milano
FOCUS EMOTIONAL LIVING, Saidue, Bologna
PREMIO LISSONE 03, Civica Galleria d'Arte Contemporanea, Lissone, Milano
CIOCCOLARTS, Cavallerizza Reale, Torino
2002
BEST BEFORE, Galerie METIS_NL, Amsterdam
W.T.O., Galleria ZONCA&ZONCA, Milano
L'ECONOMIA DEL GUSTO, Certosa di San Giacomo, Capri
LABIRINTO, Galleria Claudio Poleschi, Lucca
RED SPY, La Brunella, Aulla, Massa
DUBUFFET E L'ARTE DEI GRAFFITI, Palazzo Martinengo, Brescia
OUTDOOR, Kunst und Kulturverein, Aschersleber
LA SALA DA BAGNO: PERSONAGGI TRA' SPERIMENTAZIONE E CREATIVITA', Cersaie, Bologna
2001
PARETE BARIATTI, Loft Bariatti, Milano
INTERNATIONAL FUSION, Galerie METIS_NL, Amsterdam
EMPORIO, Viafarini, Milano
IN-PRESSIONE, Officine del gas a Bovisa, Milano
CARTA, Galleria NO CODE, Bologna
IPERNATURA, Stamperia dell'Arancio, Grottamare, Ascoli Piceno
2000
NO-RANDOM, Consortium, Amsterdam
MATRIX, Galleria ZONCA&ZONCA, Milano
UBERSICHT, Galerie Luciano Fasciati, Chur
COCKTAIL GENERATION, Galleria NO CODE, Bologna
CHERRIE PIE+ MOVIE, Sala Truffaut, Modena
LA NASCITA DI VENERE, KAS, Firenze
1999
Antica Macelleria Cecchini, Panzano in Chianti, Firenze
ANCHE A MANO, Galleria Maria Cilena, Milano
TRIPPY WORLD, Gallery BaronBoisantè, New York