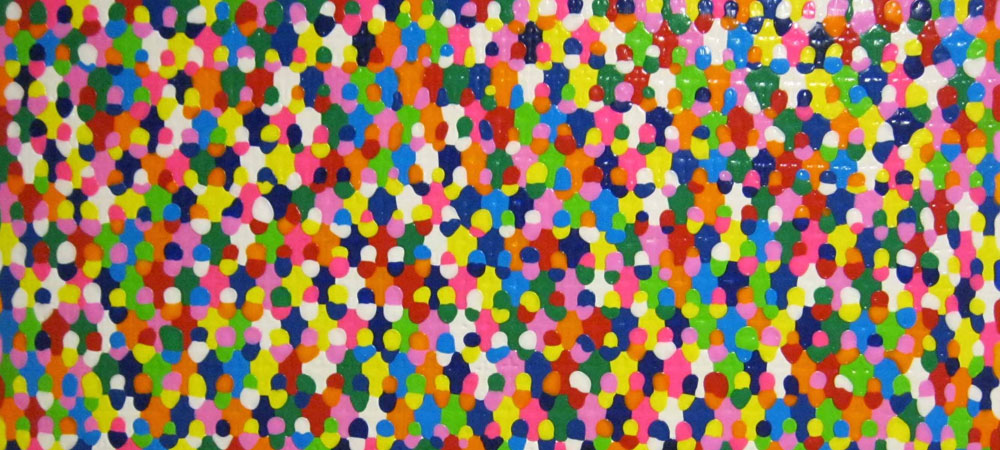 SHINYA SAKURAI
(Hiroshima, Japan, 1981)
Shinya Sakurai is a young Japanese artist, who lives and works in Turin, Italy. After majoring in Fine Arts at the University of Osaka, he started studying at Accademia Albertina, Turin.
In his pieces Japanese and Western culture are intermingled. As we might notice in his Love Pool, the artist displays the traditional shibori, a method of dyeing cloth with patterns, next to the use of catholic symbols such as crosses and Madonnas, typical of Italian iconographic tradition.
A pop flavour is conveyed by the recurrent heart shapes, one of his favourite logo. These hearts symbolise the thread which connects the artist to his homeland. At the same time they might conceive the longing for a world without conflicts. Through these emblems the artist exhorts the viewer to think about the role of memes and naive images in our culture, because they may instead reveal new perspectives.
Info →
MAIN SOLO AND GROUP SHOWS
2023
Marks & Traces, Kaky Gallery, Toyama
2022
Marks & Traces, Contemporary HEIS Art, Tokyo
Symbol, Galleria Paris, Yokohama
Terrific Colors, Metroquadro Arte Contemporanea, Torino
Bilder einer Ausstellung, Galerie Lattemann, Darmstadt
Arte Fiera Padova, Galleria Vigato, Padova
Arte Fiera Verona, Galleria Vigato, Verona
2021
Symbol, Maeda Hiromi Art Gallery, Kyoto
Symbol & Colors, Kaki Gallery, Toyama
Post Arte in Nuvola, Galleria Il Castello, Milano
Arte in Nuvola, Galleria Il Castello, Roma
Art Fair Tokyo, HEIS Gallery, Tokyo
2020
Symbol, Contemporary HEIS Art, Tokyo
Delicious Colors, Galleria Paris, Yokohama
Boetti, Bertasa, Sakurai, Galleria Il Castello, Milano
Arte Fiera Bologna, Galleria Il Castello, Bologna
2019
Delicious Colors, Galleria Il Castello, Milano
Delicious Colors, Maeda Hiromi Art Gallery, Kyoto
Memory Crossing Over, Galleria Paola Verrengia, Salerno
Colors & Cultures, Kaky Gallery, Toyama
TRANSITI, Palazzo Lascaris, Torino
Next Stage, Ginza Mitsukoshi, Tokyo
2018
Delicious Colors, Contemporary HEIS Art, Tokyo
Art Élysées, Parigi Pavillons, HEIS Gallery, Parigi
Jeunes Artistes Emergents, La Galerie Akie Arichi, Parigi
2017
Shinya Sakurai / Iwao Ikeda, Kakiden Gallery, Tokyo
PASSPORTS, Galleria d'arte Panta Rei, Torino
Wake Up The Color, Maeda Hiromi Art Gallery, Kyoto
da Hiroshima a Torino passando per Nagoya, Galleria Comunale, Nagoya
2016
Colors, Contemporary HEIS Art, Tokyo
Doppio Colore, Istituto Italiano di Cultura, Osaka
Screen, Marco Cappello Vintage Design Gallery, Torino
2015
My Favorite Colors, HEIS Gallery, Fukuoka
UNITED COLORS, Maeda Hiromi Art Gallery, Kyoto
Arte Fiera Bologna, Base Gallery – Tokyo, Bologna, Italy
2014
The Drifting Clouds – Kaori Miyayama | Masaharu Sato | Shinya Sakurai , curata da Antonio d'Avossa, Galleria Paola Verrengia, Salerno, Italia.
Arte Fiera Bologna, Base Gallery – Tokyo, Bologna, Italia
2013
CONTEMPORARY ISTANBUL, Galleria Paola Verrengia, Istanbul, Turchia.
United Colours, Base Gallery – Tokyo, Japan
2012
Saluzzo Arte – Fondazione Amleto Bertoni – Saluzzo, Italia
Il Senso e il colore, The White Gallery, Milano, Italia
Love Seeds and MA, Galleria Schloss Puchheim – Puchheim, Austria
Shinya Sakurai 2007-2012 ,Palazzo MIstrot – Torino, Italia
Love Pool, Gallery K – Kurashiki, Japan
Love Pool, Galleria Paris – Yokohama, Japan
Love Pool, Galleria Albanese Arte – Matera, Italia
2011
Fly the flag, curata Dino Ferruzzi, The White Gallery, Milano, Italia
Paese dei Nidi, curated by Andrea Pozzoli, Castello di Racconigi, Racconigi, Italia
Zen, Galleria Sargadelos, Pontebetora, Spain
2010
Love Song, Galleria Paris, Yokohama, Japan
One, Artmark Gallery, Wien, Austria
Cuore, curata da Giorgio Auneddu, Galleria Girogio Marosi, Torino, Italia
Seeds, Gallery Toro , Granada, Spain
Biro Show, The White Gallery, Milano, Italia
Seeds, Gallery PICI, Seoul, Korea
Voca, Tokyo National Museum, Tokyo, Japan
2009
Shower of Love, ORIE ART, Tokyo, Japan
Intelligent Surface, curata da Dino Ferruzzi, Centro Ricerca Arte Contemporanea, Cremona, Italia
Reflexos, Galleria Esther Montoriol, Barcelona, Spain
Nuove Creativita del Mondo, curata da Gabriele Simongini, Camera dei Deputati, Roma, Italia
Forma de Silencio, Galleria Sargadelos, Pontebetora, Spain
2008
Love Communication, curata da Antonio Benemia, Accademia di Belle Arti, Macerata, Italia
Positive Happy Love, Galleria Paris, Yokohama, Japan
Quadrato D'arte, curata da Vitaldo Conte, Galleira LIBRA, Catania, Italia
Centro/Periferia.Nuove Creatività, Uffici Federculture, Roma, Italia
ARTES-TOKYO, Museo della Grabado di Artes, Pontebetora, Spain
Simposio di arte a Lanzarote", curata da Rufina Santana, Lanzarote, Spain
2007
Love from Hiroshima, curata da Vittorio Falletti, Palazzo del Collegio, Galleria Arte Giovane, Asti, Italia
Happy Love, Galleria Spica Art,Tokyo ,Japan
Love from Hiroshima, curata da Vittorio Falletti,Circolo della Artisti Torino, Torino, Italia
2006
Shinya Sakurai, curata da Enrico Debandi, Galleria Catartica Arte Contemporanea, Torino, Italia
In sede-Qui si sta bene, curata da Francesco Poli, Divisione Servizi culturali, Torino, Italia
Mythos, curata da Giorgio Auneddu, Accademia Albertina delle belle arti, Torino, Italia
2005
New Type, Japanese Embassy, Milano, Italia
2004
Shinya Sakurai, curata da Mirei Ono Museum of Shibuya, Hiroshima, Japan