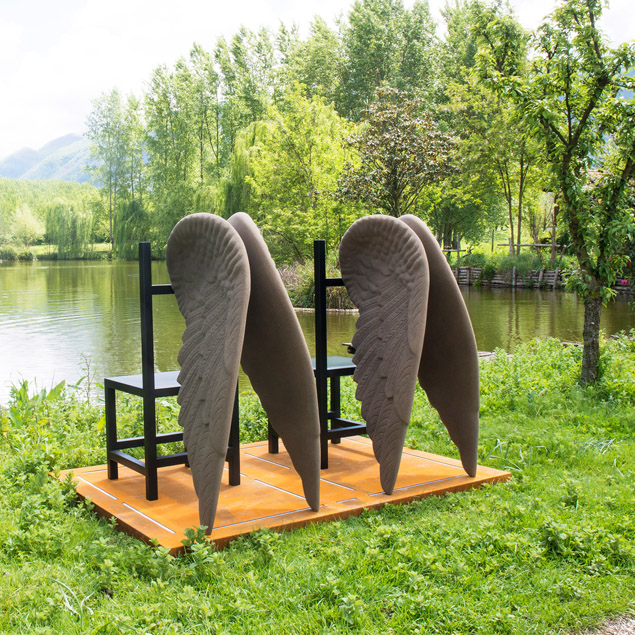 X
→
←
PEPPE PERONE
(Naples, Italy, 1972)
Peppe Perone was born in Naples in 1972. He lives and works in Rotondi, Avellino.  After attending the Art School in Benevento, in 1994 he graduated in sculpture at the Academy of Fine Arts in Naples. In 1998 he began to create sculptures and installations in which he reproposes animals and everyday objects taken from their context, covered and crystallized with a thin layer of sand, a material that alludes both to childish games and to the fragility of things subjected to the processes of
continuous transformation. In 2000 he was invited to create a poster sculpture for the "Flags of May" in Piazza del Plebiscito in Naples.

Info →
Main Personal and Collective Exhibitions
Personal Exhibitions
2021
L'acqua è poca e la papera non galleggia, Saraceno Art Gallery, Roma
2018
Galleria Other Size, Milano
2015
Mirabilia domestica Galleria Michelangelo Roma Italia
2011
GUIDI &SHOEN Genova Italia
2010
Ronchini Arte Contemporanea Terni Italia
2007
Mimmo Scognamiglio Arte contemporanea, Napoli, Italia
IMAGE FURINI Arte Contemporanea Arezzo Italia
2006
UNO su NOVE Arte Contemporanea Roma Italia
2005
mostra personale ad ARTISSIMA Torino con Galleria Mimmo Scognamiglio
2004
Ronchini Arte Contemporanea, Terni, Italia
2003
Galleria SPAZIA bologna Italia
"Metropolitana di Napoli", Circumvesuviana Station, Centro Direzionale, Napoli, Italia
2002
MIART mostra personale anteprima vincitore del premio MIART
2001
Mimmo Scognamiglio Arte contemporanea, Napoli Italia
Collective Exhibitions
2023
Guarda che Luna…, Liquid Art System, Positano
2022
Ibidem and Friends, Galleria Toro, Sessa Aurunca (CE)
Neighborhood, ARCOS, Benevento
2019
L'Artista Invisibile, a cura di Marco Tonelli, Piazza Castello, Mantova
2018
Mirabilia Urbana, a cura di Fabio Cozzi, centro storico di Civitavecchia.
Senza Titolo. Sogni e Visioni di Via Varco in Irpinia, Other Size, Milano.
2017
"ILLUMINA LA NOTTE. LA LUCE CON L'ARTE DI VIA VARCO" intervento Cofinanziato dal POC Campania a cura di Marco Tonelli
"Have a Nice Time" a cura di Antonio D'Amico Domodossola (MI) Italia
2016
METAMORPHOSIS BIENNALE ITALIA-CINA Pechino Cina
" CAPRICCI" Acqua Pedra Telese Terme (BN) curated by Giuseppe Cascetta and Achille Bonito Oliva
2015
SCULP! Guidi&Shoen Genova curated by Luca Beatrice
"TRASLZIONI" Opificio Arti Performative Frattamaggiore (NA)
Vedo Nero Palazzo morelli Todi Italia
"IMAGO MUNDI " PRAESTIGIUM ITALIA" LUCIANO BENETTON and Luca Beatrice
"VIAGGIO NELL'ARTE CONTEMPORANEA SANNITA Museo civico San Bartolomeo in Galdo(BN)
2014
"ART STAYS" Slovenia
"CAPRI | THE ISLAND OF ART" Piazzetta di Capri
"L'EREDITA DELL'ARTE" Mimmo Paladino e Mohanna Durra Giordania
"COSA SUCCEDE A ROTONDI" Rotondi (AV) curated Maria Savarese
Nelle Terre di Piero. Omaggio a Manzoni,Torre di pallavicina Bergamo curated by Alberto Dambruoso
"MANIFESTO PREMIO STREGA" 68° Edizione
2013
"VIAGGIO IMMAGINARIO" ARCOS Benevento Italia
2012
" +50 Palazzo Collicola Arti Visive Spoleto (PG) Italia
"GI ARTISTI CHE HO AMATO " (ADRIANO RONCHINI) Ronchini Arte
Biennale ITALIA-CINA Monza Italia
2011
Bestiario, Mitologico del Contemporaneo, Genova Italia
WHAT? Mimmo Scognamiglio , Milano Italia
"100 E UNO MODI DI ANDARE OLTRE", Sorrento Italia
2008
MATRIX NATURA di Luciano Caramel
59° Premio fondazione Michetti Francavilla al mare Italia
2007
"PREMIO INTERNAZIONALE GIOVANE SCULTURA" Fondazione Messina
"LINEE ALL'ORIZZONTE "Galleria D'Arte Moderna Genova"Italia
2006
"ARTERRITORY " Museo Montemartini ,Roma, Italia
"ARTS IN FABULA" Certaldo, Firenze, curated by Maurizio Sciaccaluga
CARTA BIANCA Nuvole Arte Contemporanea Montesarchio (BN)
2005
"…O luna Tu. .", ARCOS-Museo di Arte Contemporanea del Sannio Italia
"LA SCULTURA ITALIANA DEL XX SECOLO" Fondazione Pomodoro Milano,
2004
"PREMIO RAZZANO", Museo del Sannio, Benevento, Italia
"LASCIATECI DIVERTIRE" a cura di Maurizio Sciaccaluga Palazzo Comunale, Arezzo , Italia
2003
"INCHIOSTRO IN DELEBILE". Impronte a regola d'arte", MACRO, Roma, Italia
Quadriennale Anteprima Napoli
"Last Judgment", Boombershoot, Seattle, USA
2002
Napoli Anno Zero Qui e Ora.. curata da Achille Bonito Oliva
2001
CHAOS & COMMUNICATIONS 10th Biennale Giovani Artisti Del Mediterraneo
"CITTADINI E NON" Galleria Civica D'Arte Contemporanea, San Martino Valle Caudina (AV)
2000
"BANDIERE DI MAGGIO", Piazza del Plebiscito, Napoli, Italia